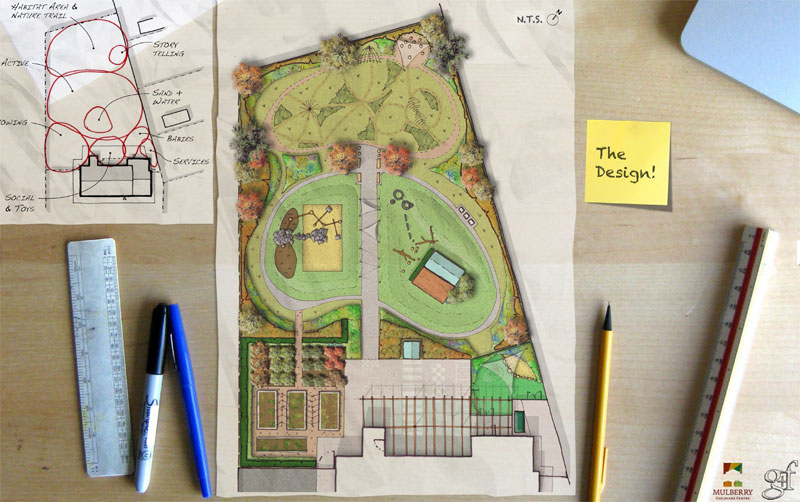 The Natural Outdoors provides a Rich Learning Environment
The goal of designing Mulberry's Natural Garden is to use the landscape and vegetation as the play setting and nature as much as possible as the play materials. The natural environment needs to read as a children's place for rich play and learning.
Children's outdoor play is different from time spent indoors. Activities not suitable for indoors can be safely experienced outdoors. Children have greater freedom not only to run and shout, but also to interact with and manipulate the environment.
Children experience the natural environment differently than adults. Adults typically see nature as a background whereas children experience nature as a stimulator and experiential world of activities.
Children's instinct for nature is demonstrated by their attraction to fairy tales set in nature and populated with animal characters.
Studies have shown that the way people feel in natural environments improves recall of information, creative problem solving, and creativity. Early experiences with the natural world have been positively linked with the development of imagination and the sense of wonder.
The creation of our natural garden  seeks to promote physical development and provide health and educational benefits unique to the outdoors. It will be a risk-rich environment, and include planting for all seasons. The outdoor areas will provide opportunities to facilitate children's ability to learn about risk and challenge.
Our ethos at Mulberry Childcare Centre is that children learn best through free play and discovery and we always strive to improve our rich learning environment.
Creating Wonder for Life Long Learning
— Click to view the Garden Design in a detailed view —
To learn more about our Landscape Design partners visit their website – Gardiner & Foenander
Source - Pobal & White Hutchinson